The DKV Card – Europe's No1 fuel card
As an official partner of DKV Euro Service, we are proud to be able to offer the services of the DKV Card, Europe's leading cash free fuel card, to transport companies throughout Romania, Serbia, Montenegro, Moldova and the Baltic states.

Working in partnership, DKV Euro Service and Delamode aim to help customers by providing a bespoke solution that removes unnecessary delays, offers significant price benefits and helps businesses operate more efficiently. Choosing a DKV Card not only helps customers to reduce fleets fuel costs, but it also minimises resources by eliminating the unnecessary administrative and processing burdens – easing the pressure on both the customers time and finances!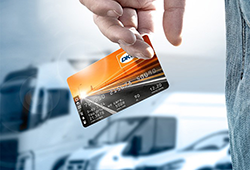 With more than 54,000 service stations in 42 countries, DKV has the largest network of service stations in Europe. What's more, the DKV card provides transport companies with reliability, cost savings and a host of services that ensure journeys across Europe are hassle and stress free, no matter where drivers are in Europe. Importantly, the DKV card and its associated services can all be tailored to meet a customers' exact business needs.
Accepted in over 54,000 services stations, across 42 European countries!
Cash-free payment of services and vehicle equipment !
Efficient settlement of toll charges!
24 hour emergency breakdown service!
Simple and transparent billing